2 Hour SUMMER SEA Safaris have started!
BEFORE YOU READ FURTHER – DOWNLOAD OUR BROCHURE HERE
SAVE UP TO 50% OFF TICKET PRICES USING SAFARI ALERTS WITH FACEBOOK MESSENGER
We can offer anything your heart desires, but there are some packages that we find are popular.
SUMMER SEA SAFARIS
Two Hour Scenic Safari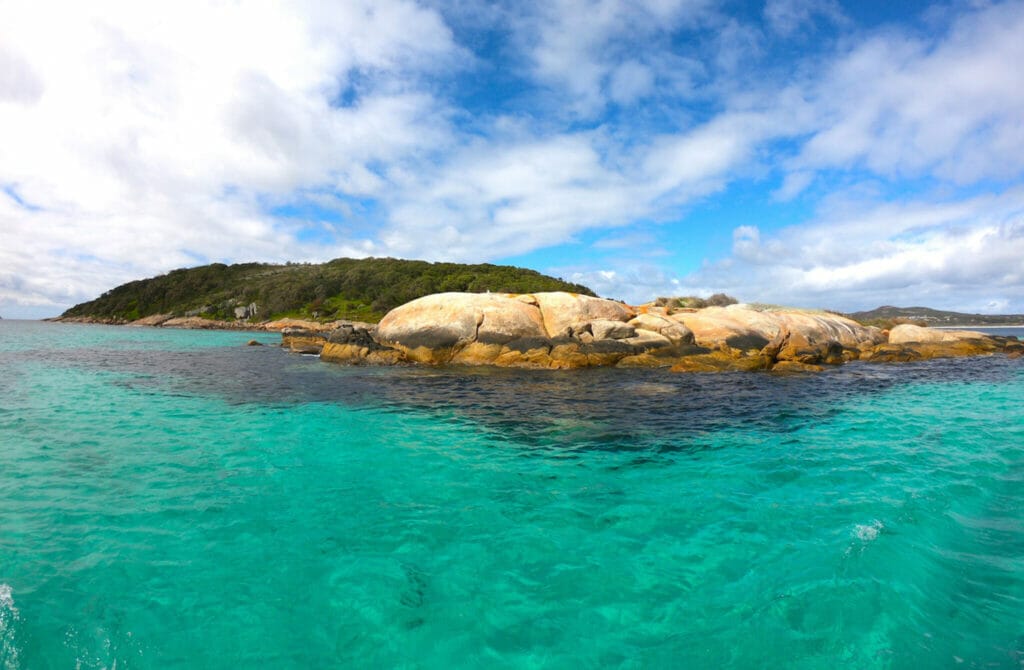 Smell the sea in the air and get the wind in your hair as we cruise around Princess Royal Harbour and King George Sound. We'll navigate through the Ataturk Channel, past Point King Lighthouse and Point Possession. You'll see the ANZAC Centre on Mount Clarence from the sea. Out in the King George Sound you'll gaze in awe at the beautiful turquoise waters of Mistaken Island.
The amazing south coast is renowned for its pristine white beaches and we cruise past Brambles, Whalers Cove/Fisheries (a local nudist beach), Goode and Middleton Beach in Frenchman Bay. We also see Camp Quaranup, built in 1875 as a quarantine station with a powder magazine built on Geake Island.
Be reminded of whaling days gone by with a visit to an old shipwrecked Whale Chaser, the Cheynes II which broke its moorings and ran aground. It can be seen from the shores of Albany but it's incredible to view up close and a photographers favourite.
Departs 9:30am, 12:30pm and 3:30pm
Adults $70
Concession/Pensioners $65
Children (5-17 yrs) $60
Infants (0-4 yrs) FREE
Sea…the other side of Albany.
King George Sound Safari will make your day. Not only do we offer the widest range of activities at sea around Albany, but we tailor everything to your particular wants and needs. Romantic evening? Done. Birthday party? Sorted. Casual cruise to see the whales, dolphins and schools of whiting? We have you covered.
If you want to book and pay online we have the technology – you can look at our schedule, choose a date and time that suits you, pay and receive confirmation all without leaving your office or couch at home. If you'd rather book by phone, do not hesitate to call us on 0429 080 397. We can provide nibbles, drinks, bbq facilities, ice, a fridge, an esky, you name it.
Tripadvisor Travellers' Choice (previously Certificate of Excellence) every year from 2019 – 2023 >>>
We have a great way to let you unwind, relax, have fun and reconnect; that is our purpose, our reason for being here. You can usually find us wherever there is sheltered water, with up to twelve passengers, chilling out.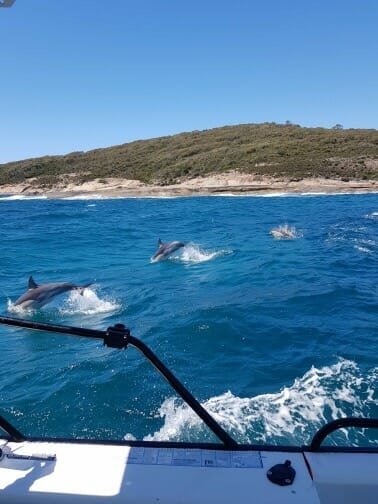 My husband and I went on a morning 2 hour safari around Princess Royal Harbour and King George Sound. Before we were even 10 minutes from the marina, we saw 2 pods of dolphins near the old Cheynes II whale chaser which looked to be in a feeding frenzy with birds darting into the water as well. His tours are very personable and he changed his regular run so we could spend more time watching the dolphins. The old whale chaser was fascinating to visit and had an Osprey perched on top of the crows nest. We then went around to Mistaken Island which has the most beautiful turquoise blue waters. Mark's knowledge of the area is fantastic and he makes the trip fun too. We used safari alerts on his facebook page which uses messenger to send you an alert when he has last minute specials plus a fun quiz so you can learn more about Albany. What a great idea! Thanks Mark for a great morning. We both thoroughly enjoyed it and highly recommend this to anyone visiting Albany. We look forward to coming back in Winter and doing his whale watching tour.
100% Satisfaction Guarantee
If the safari was not to your satisfaction or while the whales are in town and you did not see a whale, you are invited back as our guest free of charge for another safari.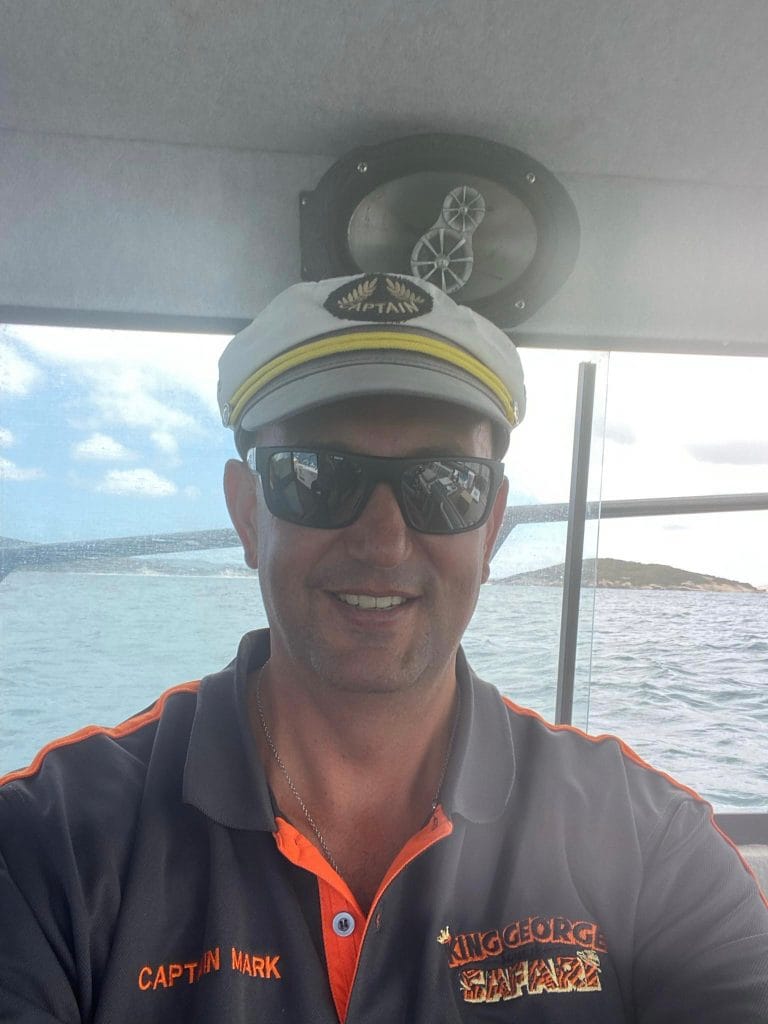 Some photographs taken by our happy customers…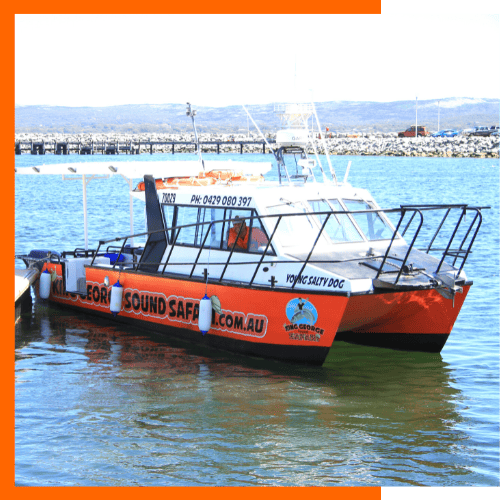 Our twin hull catamaran design means that we do not rock about the way that single hull boats can. This extra stability makes for a more comfortable outing. In fact, our boat the "Young Salty Dog" is an ex sea rescue vessel so it's safe and stable.
Some of Albany's greatest beaches, secluded bays and inlets are best arrived at by boat. Without a doubt the best views are from a boat. The most romantic dinners are on a boat. We have the boat to take you there, regardless of what you are chasing. Within minutes of leaving the boat harbour at the bottom of York Street we can get you to beaches protected from development.
We'd love to take you there.
Check more reviews from these websites below.
It was great experience to see Albany in a different angle that you don't see on land. We were surprised to see so many beautiful hidden beaches and islands in Albany. Captain Mark is very funny, knowledgeable and even let us drive the boat! My five-year-old boy thoroughly enjoyed driving the boat for the first time. Thanks, Mark.

⭐⭐⭐⭐⭐
A beautiful morning in Albany that was just highlighted by 2.5 hours on a cruise on the Young Salty Dog. As a local I try to get all my guests to experience Albany from the water... Mark never fails to deliver a wonderful trip. Mark's knowledge and easy style with all his customers is one of the elements that makes this cruise a "must do" when you are in Albany. Beautiful scenery, fresh air and sunshine .... who could ask for more?? Thank you Mark, keep up the great work you are an asset to our tourism industry

⭐⭐⭐⭐⭐
We had a family trip booked with Mark. The weather predictions weren't the best and we had little kids on board that had never been in a boat before. It turned out to be the best day ever for everyone. We were all keen to see whales but we soon found out that there is so much more to see than just whales. So we explored Albany from an angle most of us have never seen although having lived in Albany for a long time. To top it off with saw 2 humpbacks and a school of dolphins with a baby. Lucky us.

⭐⭐⭐⭐⭐